Archives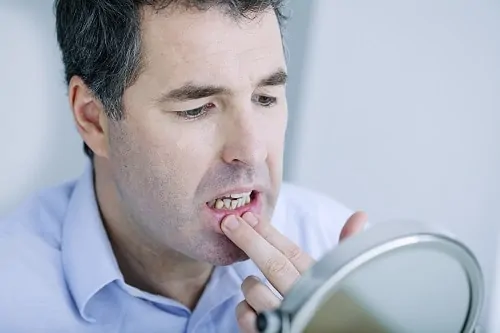 You probably already know that when your teeth hurt, you should see your dentist in Sparks as soon as you can. But what do you do if you're experiencing gum pain? When your gums hurt, it may be a sign of something serious happening in your mouth, or it could be something minor. How do you know the difference? Here are some of the common explanations behind why your gums may hurt. 
Gum Disease
One of the most common signs of gum disease is painful, swollen, red gums. You may experience increased pain when brushing or flossing your teeth, and you may also notice that your gums bleed during those activities. Gum disease is a serious oral health condition that doesn't happen suddenly but rather over time and often due to poor oral hygiene. If left untreated, gum disease can lead a whole host of both oral and overall health concerns such as tooth loss, heart disease, kidney disease, and even some cancers. However, if caught early, gum disease can be treated successfully. This is one reason why seeing your dentist in Sparks every six months is so important. 
Oral Cancer
Another possible explanation for gum pain can be oral cancer. Even though oral cancer can affect the tongue, cheeks, throat, or the gums, it's important to talk with your dentist in Sparks about any changes in your mouth, especially if they cause pain or are accompanied by a sore that doesn't go away. Oral cancer usually presents itself as a sore, but it doesn't necessarily have to feel sore, too, so make sure to monitor any abnormalities and report to your dentist sooner rather than later if they don't go away. Oral cancer can be treated successfully, but the earlier it's caught, the more successful treatment tends to be. 
Canker Sores
Speaking of sores in the mouth, canker sores are incredibly common and usually no cause for concern. However, they can cause gum pain. There's no magic treatment to making a canker sore go away, and they will usually disappear on their own. But again, if what started out as what you thought was only a canker sore doesn't get better on its own, a visit to a dentist in Sparks should be the next step. 
Hormones 
Now, this explanation behind gum pain only applies to women, but it's certainly worth mentioning. During different times in a woman's life, she goes through hormonal changes, especially during menstruation or pregnancy. One area that can be affected by these shifts in hormone level is the gums. It's common for women to experience swollen or bleeding gums during both pregnancy and a few days before their periods. The pain is usually temporary but you should still discuss it with your dentist. 
If you're experiencing any gum pain, it's important to call and schedule an appointment with your dentist in Sparks. The pain may be minor and nothing that requires treatment, however, it's better to get it checked out so that any potential problems are caught early and treatment can begin before the problem gets bigger.
An estimated 39 million Americans suffer from headaches or migraines regularly. That's about 12% of our population that experience these often debilitating, painful, and difficult-to-treat neurological conditions. However, even though this is such a widespread problem, there's still the need for more research to determine just what causes a headache or migraine, how to prevent them and treat them, and eventually, how to cure them. That's why every June, medical professionals, including your dentist in Sparks, join together to raise awareness and increase education about headaches and migraines during National Migraine & Headache Awareness Month. 
How to Differentiate Between a Headache and Migraine 
Oftentimes, the terms headache and migraine are used interchangeably. However, they are technically two separate conditions and present themselves with similar, yet different, symptoms. Both conditions involve pain in the head and it can either be a throbbing or dull pain in both. But there are a few differences in other symptoms that can help identify whether you have a headache or a migraine.  
Headache Symptoms
Pain is usually spread throughout the head

Pain remains consistent and doesn't tend to worsen with activity

Usually has the feeling of constant pressure 

Symptoms are localized to only the head
Migraine Symptoms
Pain usually affects one side of the head more than the other, but not always

Sensitivity to light and noise

Blurry vision

Nausea

Aura symptoms such as blind spots, zig-zag lines, or shimmery, glowy patches
Are Migraines and Headaches Related to Dentistry? 
We know that it may seem odd to have your dentist in Sparks talk about conditions that seemingly only affect the head, but the truth is, there may be a connection between chronic headaches and migraines and dentistry. After all, the head is connected to the neck which is connected to the jaw, and there are muscle groups connected to each, so it's certainly worth a closer look. 
Numerous studies have shown a potential correlation between a poor bite as well as habitually grinding or clenching teeth and an increased risk of chronic headaches or migraines. When someone has a poor bite or constantly grinds their teeth together, the muscles in the jaw joint are under constant and abnormal pressure and may cause a painful condition known as TMD (or TMJ). But the pain may not end at the jaw joint alone. As we've mentioned earlier, the head, neck, and jaw are all connected through a complex system of muscles, so when pain affects one section, it can also spread to affect other areas, such as the head. The theory researchers are studying regularly is that this constant muscular pressure may just cause certain headaches or migraines. 
We always encourage migraine and headache sufferers to talk with their primary care physician, as well as their dentist in Sparks, to see if their pain may be caused, or a least exacerbated by, something related to their oral health. Additionally, there is no concrete cause of migraines or headaches, so intervention from your medical team is necessary to diagnose just what may be causing your individual migraines or headaches in order to determine how to treat them effectively.
Re-posted with the permission of Perio Protect.
With the outbreak of the coronavirus, treatment for inflammation and prevention of infection and disease is more important than ever. The human body can only handle so much inflammation, and the healthier a person is – the less chronic inflammation taxing the body – the easier it is to fight off other infections, including viral. This is why we take any infectious oral conditions, even asymptomatic gum disease, so seriously. Brushing, flossing and homecare may seem mundane, but so is washing your hands. These "mundane" acts can help keep you healthy.
Our office prescribes Perio Protect, a homecare system to prevent and treat gum disease. Special prescription trays, called Perio Trays®, are made just for your mouth to deliver medication deep below the gums to fight infections causing disease. The primary medication applied with the trays, Perio Gel® with 1.7% hydrogen peroxide, is highly effective at killing infectious bacteria and reducing inflammation.
Peroxide also kills the coronavirus. Using peroxide in these special prescription trays will not prevent you from contracting the virus, but the peroxide therapy, rinsing with peroxide or brushing with the peroxide gel may help reduce the viral load in saliva and the risk of oral transmission. For this reason, dentists may ask you to pretreat with a peroxide product before coming to the dental office.
Maintain A Healthy Smile and a Healthier Immune System
It has never been more important to keep your gums healthy. Gum health is key to keeping your teeth for a lifetime and important for a healthy immune system. The chronic inflammation from infected gums is also associated with arterial inflammation, heart disease, stroke, dementia and uncontrolled diabetes. For patients with these illnesses, it is especially important to see our dental team.
If you have been told that you have gum disease or if you are concerned about bleeding gums or chronic bad breath, both symptoms of infected gums, be sure to schedule an appointment. We believe that informed patients will make informed decisions. Be sure to contact us to discuss your concerns.