Archives
We've been programmed to believe that the whiter a smile is, the healthier it is. However, this isn't always the case. In fact, your dentist in Sparks wants you to know that there is such a thing as a too-white smile, and a smile that's over-bleached can actually lead to other oral health problems. 
The Truth About Smile Whitening Treatments
Smile whitening is probably the most popular form of cosmetic dentistry done today. However, what was once only available at the dentist can now be done at home without any exam or assurance that the teeth are healthy enough. Additionally, even though over-the-counter whitening treatments can make it easier for people to whiten their teeth, it's become increasingly popular and has created almost a whitening addiction. Both of which can cause some serious problems.  
More Whitening, More Problems
Now, we should note that smile whitening can be done safely. However, there are issues when someone whose teeth aren't healthy, or who thinks "the more whitening, the better" whitens their teeth that can cause things to take a turn for the worse.
Over-bleaching your teeth can wear down tooth enamel. Without this protective layer, teeth are put at increased risk for decay, cavities, and sensitivity. Additionally, if your teeth aren't healthy to begin with, and let's say you have a cavity, introducing bleaching ingredients can cause uncomfortable zings of pain through your teeth. And the problems don't end there. 
Many over-the-counter whitening treatments allow too much of the bleach to touch and sit on the gums which can cause gum irritation, sometimes severe. Lastly, too much whitening can actually make your teeth appear more translucent and darker in appearance, which is the opposite of what you want. 
Safely Whiten Your Smile
The best way to get a whiter smile is to first start by talking to your dentist in Sparks. Not only can they help you find the best smile whitening treatment for you, but they can also help you find the best shade of white for your teeth for an overall natural, yet enhanced, look. Whichever smile whitening treatment you agree on, make sure you follow the directions to a "T," especially if you're going to use a take-home whitening product. Don't leave the whitening gel on longer than recommended, and stop use if irritation or sensitivity occurs.  
Even though smile whitening treatments can be found at any grocery store or even ordered online… it doesn't mean that all of them are created equally. Make sure you do your own research, talk with your dentist in Sparks, and don't overdo it.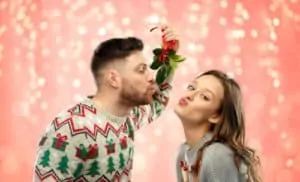 Kissing our loved ones is probably one of the best ways to show them that we care. But did you know that kissing can help us in other ways, too? Sharing a smooch can release endorphins in our brains and make us feel happier. It can also exercise our facial muscles and even burn some calories. However, as with everything, your dentist in Sparks wants you to know that kissing doesn't come without its risks.
Germs & Bacteria
We all know that germs can be passed from one person to another through kissing, but they aren't the only things being swapped. When it comes to kissing, your dentist in Sparks is also concerned with the sharing of bacteria. You see, certain types of bacteria have been known to increase the risk of tooth decay and cavities. Now, while our mouths are naturally packed with bacteria, when we kiss, these bacteria (both good and bad) can easily transfer from person to person and introduce cavity-causing bacteria.  
Keep Your Bacteria to Yourself
Even though kissing comes with some potential negatives, we're certainly not recommending that you stop altogether. Instead, your dentist in Sparks has a few tips you can try in order to keep both you and your partner smooching safely.
Nobody wants to kiss someone who has bad breath, and now we're going to give you yet another reason to tread carefully when you encounter someone with chronically bad breath. Bad breath may be a sign of gum disease, which itself is caused by an overload of bacteria and an infection in the gum tissue. 
Even though our mouths naturally contain tons of bacteria, you should always brush and floss regularly in order to keep bacteria levels in check. Also, it's key that you see your dentist in Sparks at least every six months for professional cleanings to further protect your teeth. 
When you're not able to brush your teeth try to drink or even rinse your mouth with water. This can also help remove bacteria buildup. You can also chew Xylitol gum to help reduce bacteria levels and give your breath a fresh boost for all those kissable moments. Plus, Xylitol can keep bacteria from sticking to your teeth and creates a neutral pH level in your mouth for even more protection. 
Some Good News
It's important to note that there are certainly some positives to kissing, some of which we mentioned earlier. As it relates to your oral health, kissing can actually help good bacteria move from person to person and increases your saliva production. Saliva is your mouth's natural way of washing away bacteria and neutralizing acid, both of which help protect your teeth against decay.
When it comes to kissing, there are more positives than negatives. Just make sure you practice good oral hygiene habits so your breath is kissable fresh every single time you pucker up.