Preventive Dentistry
We've all caught ourselves biting our cheeks from time to time, which is a seemingly harmless habit that can often be attributed to stress, anxiety, or even just absentmindedness. While it might not seem like a big deal at first, your dentist in Sparks knows that consistently biting your cheeks could potentially lead to problems for your teeth and overall oral health. But why exactly is this habit problematic and what can you do to decrease the dental risks associated with it? 
The Habitual Cheek Bite
Biting your cheeks might seem innocuous, but when done regularly, it can have repercussions beyond just temporary discomfort. Habitual cheek biting involves repeatedly clenching your teeth down on the soft tissue of your inner cheeks. Over time, this can cause irritation, inflammation, and even result in sores or ulcers in the mouth. While these symptoms might be uncomfortable on their own, they can also indirectly affect your teeth.
Dental Damage: Consistent cheek biting can create pressure on your teeth. This constant pressure can result in micro-fractures, chips, or cracks in your teeth. Over time, this damage might necessitate dental treatments such as dental bonding, fillings, or even crowns to restore the affected teeth.
Shift in Tooth Alignment: Habitual cheek biting can also affect the alignment of your teeth. The repetitive movement of your teeth against the cheek can push them out of their natural positions, potentially leading to malocclusion or misalignment. This might require treatment from your dentist in Sparks to correct the issue.
Bruxism Aggravation: Cheek biting is often associated with bruxism – the habit of clenching or grinding your teeth, usually during sleep. Bruxism can lead to enamel erosion, tooth sensitivity, and jaw pain. Habitual cheek biting can exacerbate these issues, intensifying the impact of bruxism on your dental health.
Prevention and Management
There are several ways you can prevent dental damage caused by habitual cheek biting including: 
Awareness and Mindfulness: The first step in addressing cheek biting is to become more aware of when you're doing it. Pay attention to moments when you catch yourself biting your cheeks, and try to identify any triggers. Practicing mindfulness and stress reduction techniques can also help minimize the instances of cheek biting.
Mouthguards: For those who find it challenging to control cheek biting, your dentist in Sparks  can create custom mouthguards or splints to help. These devices act as a barrier between your teeth and cheeks, preventing direct contact and reducing the potential damage caused by clenching and grinding.
Biting your cheeks might seem like a minor concern, but its impact on your dental health can be significant. From dental damage and misalignment to exacerbating bruxism-related problems, this seemingly harmless habit can lead to various oral health issues. The key lies in awareness, stress management, and seeking professional guidance when needed. By taking steps to address and mitigate cheek biting, you can preserve your dental health and maintain a confident smile for years to come. Remember, a proactive approach to oral health can lead to a happier and healthier mouth.
Even though dentists are primarily associated with oral health, there's a lesser-known aspect of dentistry – its role in treating migraines and headaches. Some dentists' expertise can extend beyond the realm of teeth and gums and into other systemic health concerns such as the connection between migraines, headaches, and dental health In fact, your dentist in Sparks may be able to provide much-needed relief to those suffering from chronic headaches.
The Dental-Migraine Connection
Migraines and headaches affect millions worldwide, impacting individuals physically, emotionally, and socially. But what many don't realize is that dental issues, such as temporomandibular joint disorder (TMJ), misaligned bites, and teeth grinding (bruxism), can contribute significantly to the frequency and intensity of these debilitating headaches.
TMJ Disorder
Temporomandibular joint disorder, a condition affecting the joint that connects the jawbone to the skull, often goes undiagnosed but can certainly cause symptoms including headaches and migraines. Dentists are trained to identify the telltale signs of TMJ disorders, such as jaw pain, clicking noises, and limited jaw movement. Addressing TMJ issues can lead to remarkable improvements in migraine and headache symptoms.
Malocclusion
A malocclusion, commonly known as a "bad bite," occurs when the upper and lower teeth do not align correctly. This misalignment can lead to increased muscle tension, which triggers headaches. Dentists can conduct bite assessments and orthodontic treatments to rectify malocclusions, potentially offering relief to headache sufferers.
Bruxism 
Bruxism, the unconscious clenching, and grinding of teeth, is a common dental issue often linked to stress and anxiety. Prolonged bruxism can strain the jaw muscles, leading to headaches. 
Dental Solutions for Headache Relief
Depending on the underlying cause of headaches or migraines, your dentist in Sparks may be able to help you get relief. 
Dentists can create custom mouthguards or suggest stress management techniques to alleviate bruxism and its related headaches.
Orthodontic treatments, such as braces or clear aligners, can correct malocclusion, which in turn can reduce the frequency and intensity of headaches. Through carefully planned orthodontic procedures, dentists can achieve a harmonious bite, promoting overall oral health and reducing headache triggers.
Dentists equipped with TMJ disorder treatment knowledge can offer targeted therapies and techniques like ultrasound therapy, trigger point injections, and jaw exercises to provide immense relief to migraine sufferers.
Nobody should have to deal with chronic headaches or migraines. Dentists can help. Those who have tried other treatments but have not yet considered a migraine-dental connection are encouraged to consult their dentist in Sparks for an evaluation. They just may unlock the relief you've been seeking for a happier, pain-free life.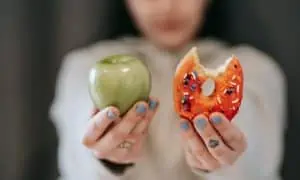 Cutting back on sugar can be difficult because it's in so many foods and drinks, and sometimes in surprising amounts. But reducing your sugar intake or eliminating it from your diet altogether can certainly help your overall health as well as your dental health. After all, there's a reason your dentist in Sparks isn't a huge fan of the stuff. Sugar is often considered the leading cause of cavities. But the truth is, even if you don't eat sugar, you can still get cavities. 
What Is a Cavity? 
Cavities are so common in the United States that the CDC says 90% of Americans over the age of 20 have had at least one cavity in their lifetime. These tiny areas of tooth decay, if left untreated, will only become bigger and deeper and also become more difficult to treat. Cavities begin as a small hole or pit in a tooth where acid or bacteria has attacked the enamel. During this stage, cavities can easily be fixed with a filling from your dentist in Sparks. However, cavities that continue to progress can sometimes require more complex treatment such as a root canal or even tooth extraction.
Surprising Things The Cause Cavities
We've already shared that many people think cavities are a problem of eating too much sugar, and while that may be the case, there are other reasons why a cavity develops. 
If a patient's mouth is dry it's more likely that they will have cavities. Usually, saliva will help neutralize acids and rinse away bacteria that can cause cavities. But when saliva production is too low and the mouth feels too dry, bacteria and acids are left lingering around to cause damage to the enamel and, you guessed it, cause cavities. 
Besides sugar, there are other foods that can increase the risk of cavities. The two most concerning are acidic foods, such as citrus fruits and foods with a lot of carbohydrates. Acidic foods and drinks further aid in the mouth acid's ability to weaken enamel while carbs fuel the bacteria, allowing them to thrive. 
There are many reasons why it's important to brush your teeth twice a day and floss once a day, but one of the main reasons is to prevent cavities. Brushing your teeth in the morning and at night will remove plaque and plaque acids that have built up throughout the day. Flossing reaches those tricky areas that a toothbrush can't reach and where cavities are more likely to develop. 
Cavity Symptoms
Patients may experience different symptoms, but some of the most common signs of a cavity include: 
Pain when you bite

Tooth sensitivity

Brown, black, or white spots

Toothache

Pits or holes in a tooth
If you think that you may have a cavity, call your dentist in Sparks to schedule an appointment. 
Even though cavities are incredibly common, there are things you can do to reduce your risk of getting one. Make sure you brush and floss your teeth regularly, limit your intake of sugary, acidic, or high-carbohydrate foods, and drink plenty of water daily. Of course, you should also see your dentist every six months for a checkup.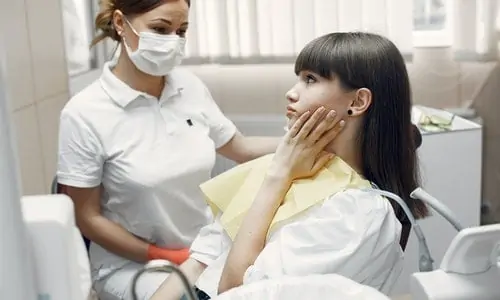 Thanks to our fantastic training and technology, when you see your dentist in Sparks for a dental filling, you most likely won't experience any pain or discomfort. However, all patients, their mouths, and pain tolerance levels are different, so what you experience or how you're feeling post-filling might be different than someone else.
Let's Talk Tooth Sensitivity
Have you ever had a cold or hot beverage that made your teeth feel funny? This is something we call tooth sensitivity, and it's actually a normal side effect after you've completed dental work like cavity fillings, tooth extractions, or dental implants. Why does tooth sensitivity lead to dental pain? It's due to nerve inflammation inside your tooth or teeth. If you have pain or tooth sensitivity that persists for weeks or even months after you've seen your Sparks dentist, you'll want to schedule an appointment to have them take a look at your teeth to see if something needs further attention.
It's All About Pressure
When unwanted discomfort occurs after a filling or any dental treatment, you're probably wondering why. It turns out the answer to this question is simple — it's pressure. After your filling is permanently in place, the piece of your tooth that was damaged by bacteria is now filled in, adding new pressure to the area. This can change how air and saliva move across your tooth, causing sensitivity.
What You Can Do to Feel Better
You can take some steps at home to help you feel better if you have dental discomfort or pain post-procedure. Try taking some Advil, Ibuprofen, or Aleve. Be sure to follow the recommended dosage directions and instructions. Applying a cold compress on your cheek or jaw to minimize pain. Are you also wondering how to manage sensitivity in your teeth due to cracks and damages to a filling? Maintaining optimal dental health should still be your top priority, and you want to:
Use a toothpaste specially designed for sensitive teeth
Brush and floss regularly every day
Gargle using warm, salty water
The right thing to do if you're experiencing any pain, discomfort, or sensitivity is to schedule a visit right away at our Sparks dental office. We can help you feel better and determine what's causing your issues so we can get to the root of the pain. If you have any questions or concerns, please feel free to call our office today and chat with us. We're always here to help and look forward to hearing from you!
Each and every February, loved ones throughout the United States go above and beyond preparing for Valentine's Day. Whether you choose to show your love with chocolates or flowers, one thing remains constant — bright red hearts are everywhere we look. But there's another reason (besides Valentine's Day) that we should pay attention to these hearts. February is American Heart Health Month and focuses on raising awareness of how daily choices affect our risk of heart disease. In fact, this holiday has a special place in your Sparks dentist's heart because there is a strong connection between oral health and heart health. 
What is Gum Disease?
Gum disease is an infection in the gum tissues usually caused by a buildup of bacteria and plaque. When someone doesn't brush their teeth often enough or well enough, plaque is left behind and can easily work its way up under the gum, settle in, and cause trouble. 
There are four stages of gum disease including: 
Slight Periodontal Disease
Moderate Periodontal Disease
Advanced Periodontal Disease
Gum disease can be treated if caught in the gingivitis stage, so make sure you visit your dentist in Sparks every six months for dental cleanings, x-rays, and thorough exams so we can identify any problems early.
What Does This Have to Do With Your Heart?
If gingivitis isn't diagnosed and treated quickly it will progress into slight, moderate, or advanced periodontal disease, all of which are irreversible. When gum disease progresses into these advanced stages, the infection can enter the bloodstream and travel throughout the body. This can affect areas outside of the mouth, including the heart.  
Heart Disease 
Bacteria from gum disease in the bloodstream causes the body to produce too much C-reactive protein (CRP). Higher than normal levels of CRP can lead to serious conditions such as: 
Inflamed arteries

Blood clots

Heart attacks

Strokes 
Knowing that your oral health can have such an impact on your overall wellness makes it so incredibly important that you practice good oral hygiene habits at home, including brushing twice a day for two minutes and flossing every day.   
Signs of Gum Disease
Since early diagnosis is so crucial to treating gum disease before it has the chance to affect the rest of your body, you need to know the signs of gum disease. Keep an eye out for: 
Bleeding when brushing or flossing

Puffy, tender gums

Bad breath

Loose teeth  
If you notice any of the signs of gum disease, call your dentist in Sparks to schedule an appointment. This American Heart Health Month, commit to reducing your chances of heart disease by brushing and flossing every day, seeing your dentist in Sparks twice a year, exercise, and eat a healthy diet. For more ideas on how to live a heart-healthy life, visit the National Heart, Lung, and Blood Institute.
It's not uncommon to hear your dentist in Sparks toss around the words 'plaque' and 'tartar' almost interchangeably. In fact, we've realized that this could cause some confusion, and as always, we want to help our patients understand the difference between the two. Join us as we take a look at what exactly plaque and tartar are, and how they can affect your family's oral health. 
What is Plaque? 
When trying to remember the difference between plaque and tartar, it may help to think of the two Ps. Plaque is the primary, or first, thing that can affect your teeth. Plaque is a sticky film that's basically made up of millions and millions of bacteria. It naturally builds up on teeth throughout each day, and as we eat, the plaque bacteria are also eating. As a byproduct of this feeding, the bacteria release acids. These acids can erode tooth enamel, weaken teeth, and make it easier for cavities to form. However, when we effectively remove plaque through brushing, we can help reduce the number of bacteria and lower the risk of decay and the need for fillings from your Sparks dentist.  
What is Tartar? 
So what happens when plaque remains on the teeth for too long? That's where tartar comes into play. When plaque isn't effectively removed it will harden into tartar. Now, while plaque can be cleaned away through at-home brushing, tartar is a different story. Once plaque hardens into tartar it can't be removed through regular brushing. Your dentist in Sparks will need to intervene to thoroughly remove tartar buildup. If tartar is not removed, it can increase the risk of cavities, cause tooth discoloration or tooth sensitivity, and can even lead to gum disease.   
How to Avoid Plaque and Tartar Buildup
Avoiding plaque buildup and, in turn, tartar isn't difficult, but it does require good oral hygiene habits. Make sure you're brushing your teeth each morning and before bed every night for two minutes each time. Additionally, it's important to remove plaque that may have accumulated in between teeth by flossing once a day. In between brushings, try to drink plenty of water to help neutralize and rinse away acids, and also to remove bacteria. You can also chew sugarless gum after meals and snacks. And as always, try to avoid sugary sweets and drink as it will make for both a happier, healthier smile and a happier dentist. 
The truth is, everyone's teeth will accumulate some plaque and some tartar. The important thing to remember is that this buildup needs to be removed through both brushing and flossing properly at home and seeing your dentist regularly. That's why we always recommend that our patients visit us every six months for a checkup and thorough cleaning to remove any tartar that may have formed since their last appointment. 
If it's been longer than six months since your last dental appointment, we welcome you to call and schedule a checkup today. We can't wait to see you! 
Re-posted with the permission of Perio Protect.
One of the strongest defenses we have against virus', such as COVD-19, is a robust immune system so we can fight infection – that's why we're doing our best to help our patients boost their immunity.
There are a number of scientifically-based recommendations to help boost your immune system such as eating nutritious foods and balancing our diet, making sure to get adequate sleep and physical activity, getting outdoors for some sunshine, and managing stress.
But also, research suggests that treating chronic infections, including in the mouth, may help improve immunity.
Poor oral health influences immunity and if periodontal disease (gum disease) is left untreated, it may negatively impact your overall immunity.
For many years we've known that bacteria from gum disease can be aspirated into the lungs. When this happens, the lung's ability to fight infection is disrupted, which may increase the risk for co-infections, such as virus', like COVID-19.
That's why, more than ever before, we're being especially diligent in examining patients for gum disease or any signs of oral inflammation. And, for those who have gum disease, it's important to get treated as soon as possible.
Thorough oral hygiene will reduce the bad bacteria in your mouth. That's a good thing! This includes brushing your teeth twice a day with an anti-microbial toothpaste, and cleaning in between your teeth with floss or pics. A water irrigation device and antimicrobial mouthwashes are other tools for keeping your mouth clean. The goal is to decrease the bacterial burden in your mouth.
© 2020 Casey Hein BSDH, RDH, MBA. All Rights Reserved
Re-posted with the permission of Perio Protect.
With the outbreak of the coronavirus, treatment for inflammation and prevention of infection and disease is more important than ever. The human body can only handle so much inflammation, and the healthier a person is – the less chronic inflammation taxing the body – the easier it is to fight off other infections, including viral. This is why we take any infectious oral conditions, even asymptomatic gum disease, so seriously. Brushing, flossing and homecare may seem mundane, but so is washing your hands. These "mundane" acts can help keep you healthy.
Our office prescribes Perio Protect, a homecare system to prevent and treat gum disease. Special prescription trays, called Perio Trays®, are made just for your mouth to deliver medication deep below the gums to fight infections causing disease. The primary medication applied with the trays, Perio Gel® with 1.7% hydrogen peroxide, is highly effective at killing infectious bacteria and reducing inflammation.
Peroxide also kills the coronavirus. Using peroxide in these special prescription trays will not prevent you from contracting the virus, but the peroxide therapy, rinsing with peroxide or brushing with the peroxide gel may help reduce the viral load in saliva and the risk of oral transmission. For this reason, dentists may ask you to pretreat with a peroxide product before coming to the dental office.
Maintain A Healthy Smile and a Healthier Immune System
It has never been more important to keep your gums healthy. Gum health is key to keeping your teeth for a lifetime and important for a healthy immune system. The chronic inflammation from infected gums is also associated with arterial inflammation, heart disease, stroke, dementia and uncontrolled diabetes. For patients with these illnesses, it is especially important to see our dental team.
If you have been told that you have gum disease or if you are concerned about bleeding gums or chronic bad breath, both symptoms of infected gums, be sure to schedule an appointment. We believe that informed patients will make informed decisions. Be sure to contact us to discuss your concerns.
You will hear your dentist in Sparks talk a lot about how important it is to brush and floss your teeth every day to protect your teeth and keep your mouth healthy. But did you know that you should also brush your tongue as well as your teeth? The truth is, people who don't brush their tongue regularly are putting their teeth and overall oral health at risk. 
The Fascinating Tongue
Our tongues may not seem that fascinating, but to your dentist in Sparks, these muscles are actually quite interesting and important. Not only are our tongues one of the strongest muscles in our bodies, but they also help us do many useful, everyday tasks such as speak, chew, and swallow. Tongues also have about 10,000 taste buds that allow us to taste every bit of our favorite foods. But these taste buds are also really great places for bacteria to hide. If those bacteria are not removed regularly, they can start to negatively affect oral health. 
What Happens if You Don't Brush Your Tongue?
Our tongues are made up of tons of tiny bumps called papillae. These papillae create peaks and valleys on our tongues and give bacteria the perfect place to settle. If the bacteria aren't removed, you may experience some unwanted side effects. Let's take a look at a few. 
Bad Breath – One of the most common side effects of not brushing your tongue is bad breath. While bad breath can be caused by a lot of different things, an unclean tongue can be to blame. 
Decreased Sense of Taste –

Everyone loves to eat their favorite foods because they taste good. But when a tongue is not properly cared for, bacteria can coat our taste buds and decrease our sense of taste. This means that our favorite foods may not taste quite as good as they once did. 
Black, Hairy Tongue –

Even though this sounds scary and gross, black, hairy tongue is a very real thing that can occur from not brushing your tongue. This discoloration happens when food and drink particles aren't removed from the surface of the tongue and essentially stain those tiny papillae. It should go away on its own once you get into the tongue-brushing habit. 
Gum Disease – Since our tongues are in contact with our teeth throughout the day, everything on our tongues can easily transfer onto our teeth. When tongue bacteria move to the teeth, it can cause decay and, if left untreated, progress into gum disease. Gum disease is a serious oral health condition that can cause tooth loss if not treated. 
How Do You Clean Your Tongue? 
It's important to brush your tongue every time you brush your teeth. This will give you the cleanest mouth. You don't need to scrub your tongue hard, and truth be told you shouldn't. A gentle brushing from the back of the tongue to the front and from side-to-side will do just fine. However, patients with a strong gag reflex may have trouble with this method. If this is the case, try using a tongue scraper that you can buy at any pharmacy. It's just as effective as brushing but may not trigger the gag reflex as much as a toothbrush. 
Brushing your tongue is a crucial step in making sure you're caring for your overall oral health as well as possible. Of course, seeing your dentist in Sparks at least every six months is also necessary. 
Re-posted with the permission of Perio Protect.
Ask pretty much anybody, and they'll tell you that it's extremely important to have a healthy heart. But despite this, heart disease is still the leading cause of death in both men and women in the United States. And even though more and more people are taking steps to lead heart-healthy lives, one of the leading risk factors of heart disease is almost entirely overlooked.
A recent study published in the Postgraduate Medical Journal revealed that certain high-risk bacteria found in gum disease can be a contributing cause of arterial inflammation. And since gum disease affects most Americans over the age of 30—and is both preventable and treatable—the information found in this BaleDoneen study could literally save lives.
You can have your dentist perform a simple, painless exam to see if you have signs of gum disease, and there are several companies that can measure for high-risk oral bacteria. Some include OralDNA, Hain Diagnostic and PerioDX.
There are ways to help treat this high-risk bacteria, including more frequent dental cleanings, usually 4 times each year. At home between dental visits, patients can use prescription Perio Trays® to deliver hydrogen peroxide deep below the gum line. It's easy, effective, comfortable and convenient..
If you have periodontal disease or are at high risk of gum disease, there are steps you can take to strengthen your oral health, including:
Brushing and flossing twice a day.
Stopping smoking.
Getting a dental cleaning every 3 months.
Using Perio Trays from Perio Protect.
A professional dental exam, some testing and a few extra minutes taking care of your teeth and gums can make a huge difference. Not only will your mouth thank you, but your heart will as well.