Restorative Dentistry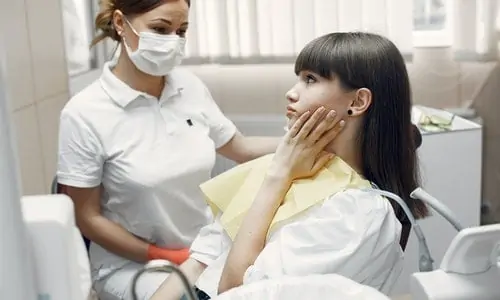 Thanks to our fantastic training and technology, when you see your dentist in Sparks for a dental filling, you most likely won't experience any pain or discomfort. However, all patients, their mouths, and pain tolerance levels are different, so what you experience or how you're feeling post-filling might be different than someone else.
Let's Talk Tooth Sensitivity
Have you ever had a cold or hot beverage that made your teeth feel funny? This is something we call tooth sensitivity, and it's actually a normal side effect after you've completed dental work like cavity fillings, tooth extractions, or dental implants. Why does tooth sensitivity lead to dental pain? It's due to nerve inflammation inside your tooth or teeth. If you have pain or tooth sensitivity that persists for weeks or even months after you've seen your Sparks dentist, you'll want to schedule an appointment to have them take a look at your teeth to see if something needs further attention.
It's All About Pressure
When unwanted discomfort occurs after a filling or any dental treatment, you're probably wondering why. It turns out the answer to this question is simple — it's pressure. After your filling is permanently in place, the piece of your tooth that was damaged by bacteria is now filled in, adding new pressure to the area. This can change how air and saliva move across your tooth, causing sensitivity.
What You Can Do to Feel Better
You can take some steps at home to help you feel better if you have dental discomfort or pain post-procedure. Try taking some Advil, Ibuprofen, or Aleve. Be sure to follow the recommended dosage directions and instructions. Applying a cold compress on your cheek or jaw to minimize pain. Are you also wondering how to manage sensitivity in your teeth due to cracks and damages to a filling? Maintaining optimal dental health should still be your top priority, and you want to:
Use a toothpaste specially designed for sensitive teeth
Brush and floss regularly every day
Gargle using warm, salty water
The right thing to do if you're experiencing any pain, discomfort, or sensitivity is to schedule a visit right away at our Sparks dental office. We can help you feel better and determine what's causing your issues so we can get to the root of the pain. If you have any questions or concerns, please feel free to call our office today and chat with us. We're always here to help and look forward to hearing from you!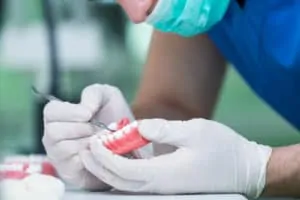 If you're missing your teeth, getting dentures can restore your smile and your confidence. Dentures are a popular choice among patients and are a relatively simple way to give those who have lost their teeth a reason to smile. But just like natural teeth, dentures require proper care. Your Sparks dentist is here to help guide you through the right way to care for your dentures. 
How to Properly Care for Dentures
Even though dentures are not natural teeth, that doesn't mean they don't still need a little TLC in order to keep them clean and fitting comfortably. 
Use Care When Handling.

Dentures can be pretty fragile, so the first step to caring for them is to make sure you use care when handling them and cleaning them. Also, make sure to store your dentures in a safe place where they won't easily get knocked on the floor. Being gentle with your dentures can reduce the risk of damage or the need for repairs. 
Rinse Them After Eating. Remove your dentures and thoroughly rinse them following every meal to remove any loose food particles. If leftover food is left lingering around it can contribute to bad breath and even gum disease. 
Brush Your Dentures & Your Mouth.

It's important to brush both your dentures and your mouth at least once daily to remove any bacteria buildup. Use a soft-bristled toothbrush and a denture cleaner to thoroughly cleanse your denture and remove any excess adhesive. As for your mouth, also use a soft-bristled brush to gently scrub any natural teeth and your tongue.
Soak Your Dentures Every Night.

In order to keep their shape and comfortably fit your mouth, dentures need to stay moist. After you remove your dentures and clean them at night, place them in a glass of water with a denture solution to soak. Your dentist in

Sparks

will be able to recommend a solution that's best for you. 
Rinse Again in the Morning.

You should thoroughly rinse your dentures before putting them back in your mouth after soaking, especially if you use a denture-soaking solution. While these solutions are good for denture care, they can lead to illness or burns if not rinsed off of a denture before it's reinserted. 
See Your Dentist in Sparks. Seeing your dentist as often as recommended is key to keeping your dentures fitting well. Your dental team may also professionally clean your dentures for an ultra-thorough clean.  
Dentures are an investment in your smile, and you want to take proper care of them so they last a long time and the rest of your mouth stays healthy. If dentures aren't cared for properly, plaque can build up and cause additional tooth loss, bad breath, and even gum disease. 
If you're missing some teeth and think dentures may be right for you, call our dental office in Sparks to schedule a consultation. We'll work with you to find the best tooth replacement option for you. 
Your dentist in Sparks will tell you that there are many reasons why a filling becomes loose or comes completely out. Let's take a look at some common causes, and some tips you can use to help you feel more comfortable until you can see the dentist and get your filling fixed.
Why Do Fillings Fall Out?
Sometimes we put a lot of pressure on our teeth when we chew. This can cause a restoration to weaken and fall out. Also, as time wears on, your saliva can eat away at or loosen the bonding your Sparks dentist used to secure your filling. Sometimes the tooth that houses your restorative filling becomes subject to decay and deterioration. Other times fillings simply fall out because we bite down on something hard like a candy or popcorn kernel. Whatever the reason for your failing filling, be sure to have it fixed as soon as possible. Your tooth will be exposed to bacteria and unwanted food particles, causing sensitivity and even decay down the road. 
What Should I Do Now?
First things first, give our Sparks dental office a call. If you're unable to do that or get to the office right away, we have some tips to help you with your failed filling.
Tip #1 – If your filling didn't fall out entirely or is loose, see if you can get it out — gently. If it stays in, there's a chance you could swallow it or even choke.
Tip #2 – Your unfilled tooth is a welcoming environment for harmful bacteria to make a home and destroy your tooth. Be sure to brush gently and carefully. Rinse with water to make sure you're removing any debris. Saltwater is great! Mix one cup of warm water, and one teaspoon of salt then rinse.
Tip #3 – Watch what you eat so that you don't further damage your tooth. Avoid things that are sticky or hard. You don't want anything getting stuck in your tooth or run the risk of breaking it when you bite. Keep foods simple and soft until you get a new filling. 
Tip #4 – If you're experiencing any sensitivity or pain, it's usually OK to take over-the-counter pain medication to dull your discomfort. Try not to use any temporary dental cement to put your filling back in place. They tend to be messy, and you run the risk of further damaging your tooth. 
What Will the Dentist Do?
One of the first things we'll do when you come for a visit is to assess your damaged tooth thoroughly. We might even take some digital photos, too. We'll use our training and cutting-edge technology to figure out what's the best fit for your smile. If your tooth has not deteriorated or if it's not severely decayed, we'll be able to fix it with a new filling. Whatever treatment you need, take comfort in knowing you're always in good hands at our dental office in Sparks. 
We hope you learned a little something here today and that you're able to get to the dentist soon. Failing or lost fillings are no fun! There's no reason to panic though there's a simple solution for every smile. We're happy to be your dental partner and get your smile healthy and happy again!
Even though our teeth are made up of one of the toughest materials in our bodies, the truth is, sometimes our natural teeth won't last forever. Whether it's due to trauma, gum disease, or decay, it's not uncommon to have a tooth fall out or to have one removed. If this happens, there are many tooth replacement options available, but a favorite choice of your Sparks dentist is a dental implant. 
What is a Dental Implant
A dental implant, or even multiple implants, is a superior way to restore your smile and give you a permanent replacement for your tooth. They are usually preferred over a dental bridge or dentures because the implant itself essentially replaces the entire tooth's structure, not simply the crown. This helps restore your mouth to full function, and oftentimes, you won't even be able to tell you were ever missing a tooth. In short, dental implants create a natural feel that can last a lifetime. 
Benefits of a Dental Implant
We already know that a dental implant can give us back full functionality of our smiles, but there are many other upsides to this tooth replacement option such as: 
Improved appearance and speech.

Since dental implants replace the tooth's natural root system and the post is integrated into the bone, dental implants continue to provide stimulation to the bone. This can help reduce the look of wrinkles and lower your risk of bone loss in the jaw. And since an implant functions very much like a natural tooth, you're able to speak clearly and do not have to deal with any annoying slippage that can often occur with dentures. 
Easier eating.

One common complaint of denture wearers is that they can't eat what they want when they want to. Dental implants eliminate that restriction and leaves people free to enjoy the foods they love the most. There is no worry of a denture slipping or food stuck getting under one. Overall, those with dental implants can eat without worry. 
Enhanced oral health.

Another difference between a dental implant and its denture counterpart is that a dental implant is a permanent structure. This means there's no need for overnight soaking or the extra cleaning that comes with a removable denture. You can care for a dental implant just as if it's your natural tooth. 
What to Expect During an Implant Procedure
The first step in determining whether a dental implant is right for you is to schedule a consultation with your dentist in Sparks. This visit will allow your dental team to exam your specific situation and determine if an implant is the best tooth-replacement option. If it is, your team will review the treatment plan and schedule the procedure. The procedure itself is pretty easy and consists of a few parts: 
Place the post.

Your dentist and your team will insert a titanium post into your jaw bone. While it may sound scary, the procedure itself is mild to moderately painful. 
Healing time.

After the post is implanted, you will be fitted with a temporary crown while your bone integrates into the post, building you a super-strong foundation.
Add the abutment.

Once the post is sturdy and healing time is complete, your dentist will custom make you a permanent crown that will be affixed to the post. 
Overall, getting a dental implant is an easy and straightforward treatment that can bring your smile back to life. 
If you're missing a tooth or are at risk for losing teeth, give our Sparks dental office a call to schedule an appointment today. We'll be happy to identify the best treatment option for you and your individual situation. 
When you're dealing with tooth pain or severe decay you may think that a tooth extraction is your only option. However, at our dental office in Sparks, we want all of our patients to know that there may be another option available that can save your tooth.
The Truth About Root Canals
Root canals have a bad reputation of being scary and painful, but the truth is the treatment itself actually makes the pain go away. Your dentist in Sparks may recommend a root canal if a tooth has deep decay or infection, or sometimes even when a dental restoration is too big. Oftentimes, a root canal can be used instead of extracting a tooth.
When an Extraction May Be the Answer
Even though saving your natural tooth is always the preferred treatment, doing so is not always possible. When decay compromises too much of the tooth or if there's a severe dental injury to a tooth, an extraction may be more appropriate. However, advancements in dental technology provide you with many options to replace a tooth once it's pulled. Some tooth replacement options include:
Once a tooth is pulled, replacing it with a dental restoration is highly recommended. If an extracted tooth isn't replaced, other teeth may start to shift and not only affect the cosmetic appearance of your smile, but may also lead to bite problems and TMJ.
Signs of a Problem
Besides generalized tooth pain, there are several other signs that you may have severe decay or dental trauma that needs treatment. Some other symptoms include:
Surges of pain while eating or applying pressure
Long-lasting tooth sensitivity
Tooth discoloration
Gum swelling or pain
The best way to prevent an extraction or root canal treatment is to keep up with your dental checkups at least every six months. These visits allow the team at our Sparks dental office to monitor your oral health and catch any problems before they turn into something serious. If it's been longer than six months since you've seen a dentist, or if you're suffering from tooth pain, we welcome you to call and schedule an appointment with us today. We're here to help make the best recommendation for you to get you out of pain.